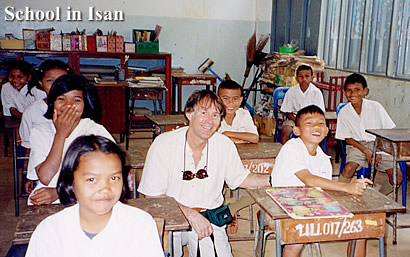 Thanks to Matthew Kelly , Amicus brought a smile to over five hundred children in one of Thailand's poorest communities.
Matthew is shown here with children at the Nongboat School in Isan, where he helped to coordinate the funding and building of their new Library and Educational Community Center.
Amicus is passionate about assisting schools and community centers in poor rural villages. By doing so we can stem the continuing erosion of village life by helping children receive needed tools to enter the modern world, while at the same time preserving the community's traditional skills, handicrafts, social and spiritual values.
Thank you to everyone who continues to make these projects a success.