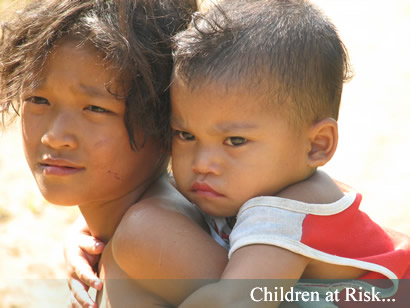 Children of the Forest is a refuge for many children from the Karen and Mon ethnic groups living by the Thai/Myanmar (Burma) border. Many families, although greatly relieved to have escaped from the brutal persecution of the Burmese soldiers, are still having to cope with grinding poverty as well as having been uprooted from their land and community. With no official papers, many refugees are often blatantly exploited by ruthless landlords as they work under severely inhumane conditions as either plantation or factory laborers, making as little as one U.S.dollar a day. This amount is considerably less than a normal Thai worker would receive.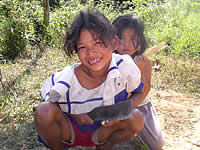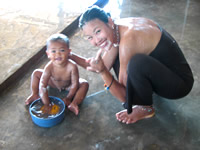 To make matters worse, the refugees are also denied the right to any sort of government medical care and education for their children. We are now working closely with Children of the Forest Home and Free School in Sangkhlaburi, Thailand to help these distressed children and families. The children are continually in danger of disease, human trafficking, violence, rape, domestic abuse and other forms of devastating exploitation and trauma. In this harsh environment the Karen and Mon children are highly vulnerable.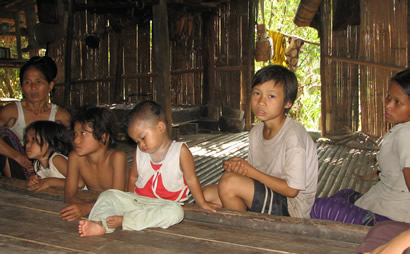 After a child rape victim came to Children of the Forest for assistance, the decision was finally made to establish a home for children at risk. The home now takes care of more than 100 children coming from backgrounds of abuse, neglect and extreme poverty. With caring housemothers, they are provided a safe and loving sanctuary.
What originally began as a small project for children has grown into a project beyond any of our expectations. The increase in the number of children under our care was not something we had planned. It was simply a necessary response to the many social and political problems both in Thailand and Burma.
In addition, it became clearly evident that a cost-free day school was desperately neededfor more than 300 other children from the surrounding areas who otherwise would be denied an education and other social benefits.
In our family environment the children can learn while feeling nurtured, loved and cared for, finally finding a chance for a happy, productive and fulfilling life.
Children of the Forest has:
A home for more than 100 children
A sponsorship program for the children - see "Change a Child's Life" page
Free School for over 300 additional children who attend daily.
Vocational training and a music & art center
Mother and Child Protection program
Education and assistance outreach programs
Healthcare outreach programs
Amicus Foundation has provided funding for land, the new home and school buildings including the library, kindergarten, classrooms, vocational training and workshop areas, and a music and art center. We have supplied cooking and gardening equipment as well as developed the fish ponds, mushroom growing house and the gardens. We have also helped improve the electrical and water systems and the road which had been practically impassable.