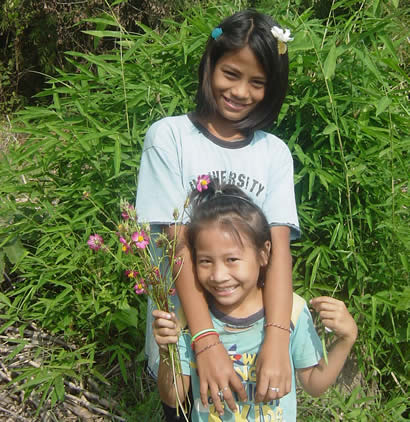 Many of the children living in Thailand are gravely affected by poverty and social problems such as human trafficking, violence, rape, domestic abuse, illiteracy, unemployment, alcoholism, drug abuse and exploitation. The "Change a Child's Life" program offers educational opportunities and helps care for these at risk children. We are working with Children of the Forest Home in Sangkhlaburi, Thailand, a 7 hour drive northwest of Bangkok, near the Myanmar (Burmese) border in the province of Kanchanaburi.
Most of these traumatized children are from the Mon and Karen ethnic groups who are extremely impoverished. Many live in Burma where they are often controlled and brutalized by the Burmese soldiers. Hunger, fear, instability and human rights abuses in Burma force many of the Karen and Mon into Thailand. Without official papers, many families have no permanent home, often living on what they can forage from the jungle or moving around from rice and rubber plantations and factory land trying to make a living from wages often amounting to less than 2 U.S. dollars a day. They cannot afford medical care and are denied a basic education for their children. Also, the threat of deportation hangs over their heads everyday.
Children, who have suffered through terrible abuses (many of their stories are beyond belief) and have no home or community, can find their refuge at Children of the Forest Home. There they have a new family, a nurturing and loving home environment and emotional support; they are finally able to have a childhood and the possibility for a fulfilling future.
With a small amount of financial support the children will not only have a roof over their head, food to eat and a caring community, but also the opportunity to attend school. For $350US a year, all educational, living and healthcare expenses will be covered for a child living at Children of the Forest Home. Your assistance will provide "your" child with hope and will open the door to many choices and opportunities. Furthermore, you will give "your" child the chance to heal a lifetime of abuse and trauma.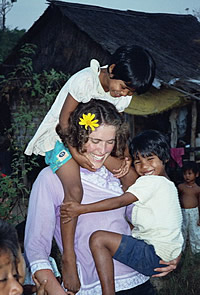 Thank you for your concern in learning about how to help a child and make a connection with them. Your support will make a tremendous difference. Should you wish, you can also have the opportunity of establishing a meaningful relationship with "your" child through writing or a visit to Children of the Forest. They will also be excited to keep in contact with you. These children have so much love and joy to share and your support will help sustain them not only in body but also in spirit. Just knowing that someone from the other side of the world cares enough to want to help, touches their hearts in ways that we cannot even imagine. Child sponsoring works best with at least a two year commitment.