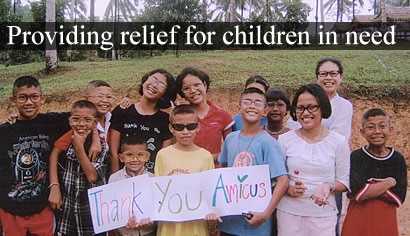 Amicus is assisting children and families in need. The Tsunami caused extensive destruction to many areas in Thailand. As a result, we helped develop Children's World Academy (also known as Yaowawit School) in Kapong, Southern Thailand. Children's World Academy provides a unique home and community for Thailand's orphans, at risk children, and poorest families. Architectural planning, building, and support have been provided by the school's co-founder, our good friend William Gaynor. Ae (Thaneeya Pientong Anderson), another friend of Amicus, was instrumental in program development.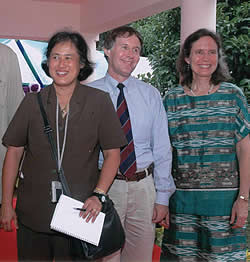 Her Royal Highness Princess Maha Chakri Sirindhorn with Amicus Foundation of Thailand's President Matthew Kelly and his wife Mary.Princess Sirindhorn is beloved by all Thai people. She has devoted her entire life to helping those in need from all over Thailand. She has visited Children's World Academy and presided at the official opening of the school. We all look forward to her continuing inspiration and support for many years to come.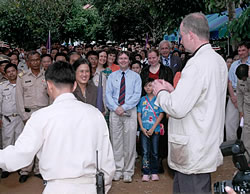 Surrounding the Princess are many villagers and friends of Children's World Academy (CWA) including Matthew Kelly (to the immediate right of the Princess), Mary Kelly, Linnea Phillips and William Gaynor (far right).An accomplished city planner, architect and builder, William donated his valuable time, service, and personal resources toward the creation of CWA school community. He designed the entire project along with local Thai experts whom he invited to help with planning and construction.
This school community was built around strong ecological standards and provides a creative learning community that reflects Thai values and traditions yet integrates with modern global life. Both traditional Thai education and an entrepreneurial spirit is woven together, including the basics of language, arts and sciences, organic farming and gardening, tourist accommodations for 30 guests, and a restaurant. This type of education will help the children learn how to break out of the cycle of poverty.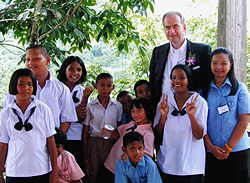 Philipp Graf von Hardenberg from Germany with students at Children's World Academy (CWA). Along with William Gaynor, Philipp founded CWA, and is an active director of the project. He introduced the Children's World Academy to the Princess, members of the royal household, and the education advisors of the King, all of whom greatly welcomed the project.