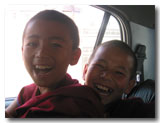 With all the difficult choices there are about your charitable giving options, AMICUS is dedicated to helping you to find the best options for your personal giving plan.
We have relationships with estate planning attorneys, financial advisors, and can offer assistance with tax laws and charitable giving options.
By making a gift to AMICUS in your estate plans you can receive significant tax advantages while at the same time leaving a legacy that reflects your values and hopes for the future.
It is never too early to include AMICUS in one of the gift options listed below. Leaving such a gift ensures that you, not the government, determine how your assets will be distributed.

The following are ways to leave a legacy to Amicus