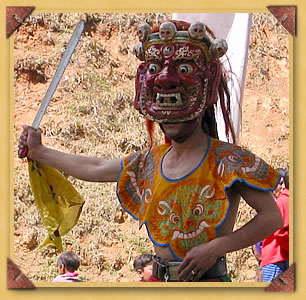 Masked festival dancer celebrating the triumph of goodness

The highest forms of Bhutanese arts can be traced to Pema Lingpa, an accomplished painter, sculptor, architect and visionary of the 15th century. Fierce costumes such as this actually symbolize the courage and power of compassion carrying the sword of wisdom, defeating the forces of negativity.
The sword represents wisdom that cuts through the root of selfishness, which is seen as the ultimate cause of suffering. The five skulls atop the mask represent our five senses which cloud the purity of our true nature. Surrounding all this seriousness are clowns who poke fun at the whole event as the audience roars with laughter, while simultaneously receiving a traditional teaching of considerable depth.